Venezuela: Juan Guaidó says Venezuela opposition 'has met military'
Self-declared interim president makes claim as Nicolás Maduro says Trump could turn country into a new Vietnam
Tom Phillips Latin America correspondent and Andrew Roth in Moscow
Thu 31 Jan 2019 00.07 ESTFirst published on Wed 30 Jan 2019 06.10 EST
Shares1,990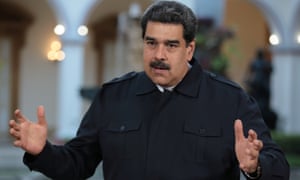 The Venezuelan opposition leader, Juan Guaidó, has claimed he has had held "clandestine" meetings with the military as he attempts to force Nicolás Maduro from power.
Writing in the New York Times, Guaidó said: "The military's withdrawal of support from Mr Maduro is crucial to enabling a change in government, and the majority of those in service agree that the country's recent travails are untenable."
Guaidó, a 35-year-old former student leader and head of Venezuela's opposition-run national assembly, has been in the forefront of a renewed attempt to force Maduro from power since last week when he declared himself Venezuela's rightful interim president in a daring challenge to the incumbent.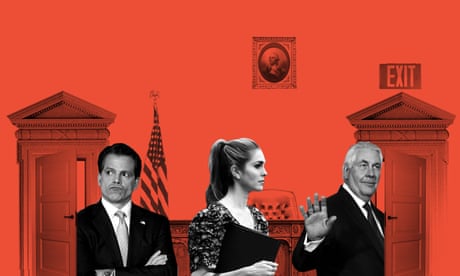 Read more
Maduro has accused Donald Trump and a "group of extremists around him" of plotting to topple him in order to seize Venezuela's oil, and warned he risked transforming the South American country into a new Vietnam.
In a four-minute Facebook video – published as Venezuela prepared on Wednesday for a day of fresh pro-opposition protests – Maduro said the leaders of the US "empire" were conspiring "to get their hands on our oil – just like they did in Iraq and in Libya".
Unable to accuse Venezuela's government of stockpiling weapons of mass destruction, they were instead waging a media campaign of fake news to justify intervening in a country that boasts the world's biggest crude reserves, Maduro said.Advertisement

–– ADVERTISEMENT ––
"We will not allow a Vietnam in Latin America. If the US intends to intervene against us they will get a Vietnam worse than they could have imagined. We do not allow violence. We are a peaceful people," Venezuela's embattled leftist leader added.
"I ask that Venezuela be respected and I ask for the support of the people of the US so there isn't a new Vietnam, least of all here in our America."
In Maduro's video, he painted himself as an "admirer" of the US who had visited Boston, Philadelphia, Baltimore, New York and Washington and wanted closer relations with the White House. "The United States is so much bigger than Donald Trump, so much bigger," he said.
But Maduro looks unlikely to repair relations with the Trump administration, which has thrown its full weight behind his rival to the presidency, Juan Guaidó.
In a telephone call on Wednesday, Trump reaffirmed his support for Guaidó, and the two men agreed to stay in regular contact, according to the White House.
On Monday, Trump stepped up his battle against Maduro by announcing sweeping sanctions against the country's state-owned oil company, PDVSA.
Maduro also said on Wednesday he was willing to negotiate with Guaidó. "I'm willing to sit down for talks with the opposition so that we could talk for the sake of Venezuela's peace and its future," he said.
Maduro said the talks could be held with the mediation of other countries, naming Mexico, Uruguay, Bolivia, the Vatican and Russia.
Later on Wednesday, Moscow repeated its offer to mediate. The Russian foreign minister, Sergei Lavrov, said Russia could offer more balanced conditions for dialogue than the west.
Lavrov called on Guaidó to agree to talks without preconditions.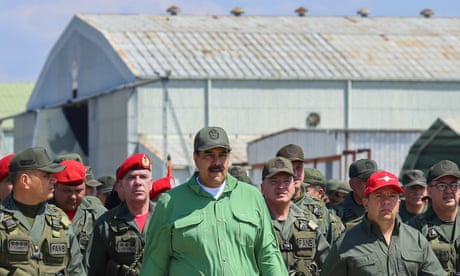 Read more
"We welcome the Venezuelan president's willingness to accept such international efforts," he said at a press conference in Moscow, according to Interfax. "We call on the opposition to display an equally constructive approach, retract the ultimatums, and act independently, guided above all by the Venezuelan people's interests."
Moscow has so far offered full-throated support for the Venezuelan leader. Russia has invested an estimated £13bn in Venezuela by refinancing the country's debt, as well as through oil and arms deals.
Venezuela's supreme court has imposed a travel ban and financial restrictions on Guaidó, including freezing his bank accounts.
At the start of a two-hour protest on Wednesday afternoon, hundreds of students gathered outside the gates of the Central University of Venezuela in Caracas. Professors gave civics lectures to the assembled students, while riot police who almost matched their numbers, watched from a distance.
Among the protesters was Rafaela Requesens, a student activist whose brother Juan, an opposition politician, was arrested after an attempted drone attack on Maduro. Amnesty International has described his detention as "arbitrary".
"This is the moment to fight for democracy," she said. "We do not seek confrontation, but rather that the police and military join this struggle. This is not a fight between Chavistas and the opposition; this is a fight for Venezuela."
More protests are planned on Saturday.
Additional reporting by Patricia Torres in Caracas
As 2019 begins…
… we're asking readers to make a new year contribution in support of The Guardian's independent journalism. More people are reading and supporting our independent, investigative reporting than ever before. And unlike many news organisations, we have chosen an approach that allows us to keep our journalism accessible to all, regardless of where they live or what they can afford. But this is only possible thanks to voluntary support from our readers – something we have to maintain and build on for every year to come.
At the Guardian, we believe that access to trusted information is a right that should be available to all, without restriction – independent reporting, distributed fairly, accessible to everyone. Readers' support powers our work, giving our reporting impact and safeguarding our essential editorial independence. This means the responsibility of protecting independent journalism is shared, enabling us all to feel empowered to bring about real change in the world. Your support gives Guardian journalists the time, space and freedom to report with tenacity and rigor, to shed light where others won't. It emboldens us to challenge authority and question the status quo. And by keeping all of our journalism free and open to all, we can foster inclusivity, diversity, make space for debate, inspire conversation – so more people, across the world, have access to accurate information with integrity at its heart. Every contribution we receive from readers like you, big or small, enables us to keep working as we do.
The Guardian is editorially independent, meaning we set our own agenda. Our journalism is free from commercial bias and not influenced by billionaire owners, politicians or shareholders. No one edits our editor. No one steers our opinion. This is important as it enables us to give a voice to those less heard, challenge the powerful and hold them to account. It's what makes us different to so many others in the media, at a time when factual, honest reporting is critical.